Private Parties
Atomic Pinball Arcade in Wood River is an 8,000 sq. ft. Pinball Spectacular with Over 125 Pinball Games, Video Games, Skee Ball, and More! At Atomic Pinball Arcade, Private Parties are a blast for kids and even more fun for parents! Bring your own drinks, snacks, and party decorations! Alcohol is permitted, but must be consumed responsibly.
Private Parties are available Wednesday through Friday, and Sunday at the following times:
Wednesdays: 11 a.m. to 4 p.m.
Thursdays: 11 a.m. to 10 p.m.
Fridays: 11 a.m. to 4 p.m.
Sundays: 11 a.m. to 8 p.m.
3-hour Private Party Pricing
30 People: $399
40 People: $499
50 People: $599
60 People: $699
Parties larger than 60 persons will require adjusted pricing. Please fill out the Party Inquiry form on this page, and we will get you an accurate quote!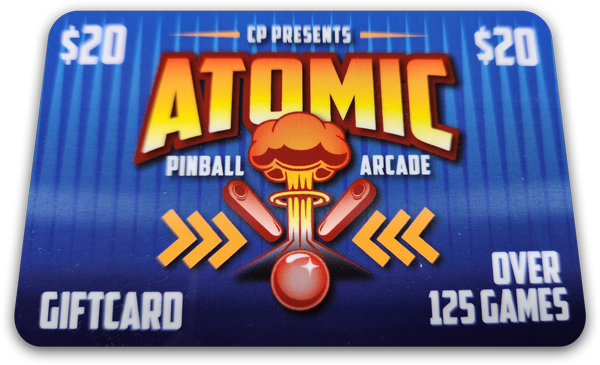 Gift Cards Available
Give your party guests the opportunity to come back and enjoy the Atomic Pinball Arcade!